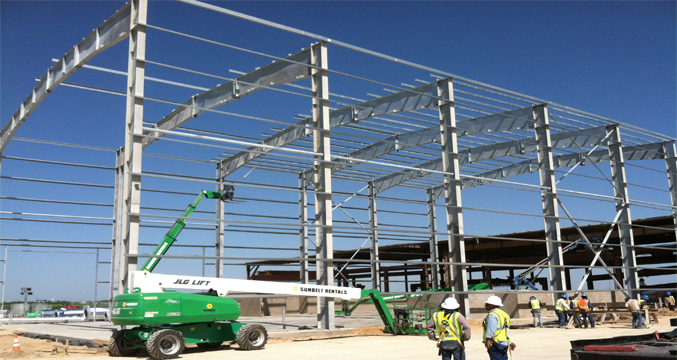 At Rainbow Building Systems, we custom build every structure. This means that your needs are carefully considered to provide an individual design for the best building available, the highest quality and the most economical price.
WELCOME
Let your next building be A Rainbow BUILDING and be proud
for years to come.
Our facilities are constructed to produce the most complicated structures. We utilize the industry's most advanced technology and design. Rainbow's buildings are designed to be used. When your needs change, your building can easily be expanded, subdivided or otherwise modified to give you broadened capability.
INDUSTRIAL CONSTRUCTION
The unique combination of quality and economy provided by our buildings is enhanced by their versatility. This is limited only by the imagination. In fact, it's difficult to find a need these sturdy structures won't meet. From machinery and agricultural storage to retail facilities and churches, Rainbow has a building to match your requirements.
The buildings are available in two straightwall designs with tapered or straight columns. Specifications include 30' to 100' spans; 20', 25', and 30' bay spacings; and eave heights to 40'0". There also is a wide choice of popular colors in 80,000 psi sheeting and a full selection of accessories.
When you select a Rainbow Building, be assured that the choice is much more than just the purchase of a building. It's an investment in long-lasting, low maintenance building service and performance.